Major Function
Autonomous Local Governance
Autonomous Local Governance
Submission of Proposals on Policies to the Government
By proposing and managing commonly applied acts and regulations that need to be revised among 17 cities and provinces, and matters which should be screened and decided by city and provincial governors for looking at whether such activity will be reflected on policies
Enhance demand factor by closely collaborating with departments in the central government on the selected policies proposed
Content
Agendas unanimously approved by the Mayors and Governors Meeting or requested by the Metropolitan cites and provincial local governments are proposed to the central government
Procedure for proposing policy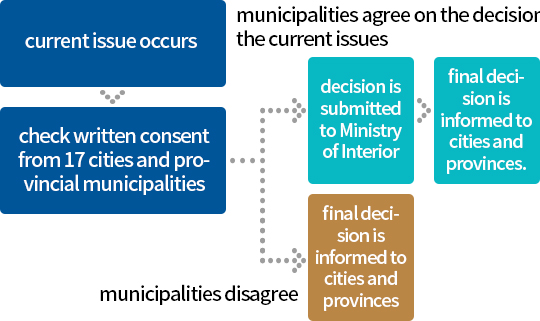 Special Committee for Local Decentralization
To facilitate comprehensive and strategic activities for decentralizing power through discussions on current issues regarding local decentralization and local governments
Content
General meetings of the local decentralization committee : twice a year
Working level meetings local decentralization committee : when necessary
Local Decentralization Forum
To create logics and develop ideas to respond to the Central Government policies and to find ways to develop the system of decentralized power.
To provide feasible policies and countermeasures through raising awareness and efficiently managing decentralizing power
Content
Forum on policies of decentralizing power will be held with the participation of experts from various fields like professors and journalists to discuss and share ideas and tasks on decentralizing power
Lecture on Local Government Decentralized Power
To help local government officials and residents to build consensus on decentralizing power and raise awareness of the Association
Content
Give lectures on current major issues regarding local municipalities and decentralizing power
Student SNS Ambassadors for Local Decentralization
Promote local decentralization through Social Network which has great influence on the society
Build national consensus by promoting the necessity of decentralizing power
Content
Conduct various promotional methods through a series of individual and group activities.
Analyze monthly performance
Motivate the ambassadors by rewarding groups with good performances
Decentralization Workshop
To find mutual development cooperation among local governments
To raise awareness of local public officials of the 17 metropolitan cities and provinces on local decentralization and importance of local governments
Content
Hosted annually
The workshop is composed of programs regarding local decentralization and provides experimental programs too
Cooperation with relevant organizations and groups
To further build solidarity among cities, local municipalities, and the assembly, these series of activities will allow them to work together for dealing with various tasks and collectively respond to common issues and also allow relevant authorities including the Government, National Assembly, academic fields, civic groups to proceed with discussions on policies for raising awareness of national local policies, strengthening decentralizing and cooperative systems.
Content
Host meeting among the four major local cooperative associations (Governors Association of Korea, National Association of Mayors, Association of Metropolitan and Provincial Council Chair, National Council Association of Chairmans).
Meet with Ministry of Interior and Seoul office of the metropolitan cities and provinces to find countermeasures and exchange information
Host policy meetings with members of National Assembly, ministries, academic groups, civic groups and media to collectively proceed with decentralizing power.
Support seminars, symposiums, and conferences that are held by the National Assembly, academic groups and civic groups.