Major Function
Local Government International Affairs
Local Government International Affairs
Online Bureau
To quickly deal with glocalization tasks of local governments online and provide various services regardless of time difference and place
Content
Operated Hours : Year-round(24/7 services)
Provided Services : Interpretation & translation, International Exchange, Overseas visit Arrangement, Information Request, General Inquiries
Operating Process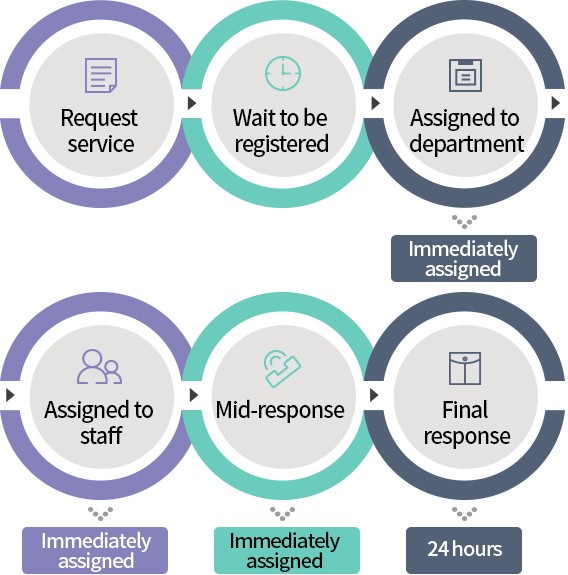 ※ When the request cannot be proceeded immediately upon registration, local governments are noticed by the Mid-response.
Coaching Service on International Exchange
Strengthen the international capabilities of local governments by providing vitalizing plan and alternatives about the exchange area, method, and content that is most suitable for carrying out the best international exchange
Content
Period : twice a year
Target : Local Governments(City, County, District)
Theme : Local Government International affairs
Content : Individual coaching provided by experts on the chosen theme
Training Program for Foreign Public Officials(K2H Program)
Invitation program for foreign public officials of local governments that currently are or is willing to cooperate with Korean local governments
Program to foster new generation of public officials whom will play a pivotal role in international exchanges among local governments of Korea and foreign countries through understanding Korea and Korean local administration.
Content
Period : April ~ October (6 months)
Participants : 60 public officials from foreign local governments (English or Korean speakers)
Programt : Pre-training, Local Government Program, Certification Ceremony, etc.
Host : Governors Association of Korea, Korean Local Government
Participation Fee

Governors Association of Korea pre-training expense, medical and accident insurance costs, living expense (4,00,000 won / monthly)
Korean Local Government : accommodation, living expense(4,00,000 won / monthly)
Korea-China-Japan Local Governments Conference
To provide a platform to proceed with practical exchange projects and cooperative networks among Korean, Chinese, Japanese local governments
Content
Period : August ~ September (Four days) / Annually
Target : Korea, China, Japan local governments
Venue : based on rotation basis among the 3 countries
Content : presentations, sharing of best practices, discuss and exchange information on local government cooperation
Network with International and Domestic Partners
To facilitate local governments' international cooperation by attaining domestic and overseas foothold for successfully conducting the internationalization practices of local governments
Content
Target

Local government associations and overseas offices abroad
Foreign missions in Korea and foreign advisories., etc.

Content

Find new international projects
Strengthen international exchange programs of local governments
Informational cooperation through the network

Utilization

For conducting projects to support international activities of local governments
For reference to creating new projects
For collecting best practices of foreign local government administration
Overseas Training Program for Korean Local Public Officials
To enhance international competitiveness of local governments by empowering the glocal capacity of the local public officials
Content
Target : Local public officials
Destination : Based on the best practice of foreign local governments
Activity : Visit to foreign local governments to benchmark best practices
Foreign Language Speech Contest for Local Public Officials
To improve the language skills of the local public officials who will most likely lead the internationalization of their regional area in the era of globalization
Content
Target : local public officials (administrative level 5 and below)
Language : English, Chinese, Japanese
Content : Finals contest will be held only with those who pass the preliminary rounds
Research Foreign Best Practices
Research and disseminate foreign best practices to Korean local governments as reference to developing Korean local administration and strengthening competitiveness.
Content
Area of Research : foreign administrative practices

General administration / financial issues / cultural tourism / transportation / environment / welfare / Health / Female youth / multi-cultural society / economic industry
Employment and labor / farming, fishing and dairy / construction technology / fire prevention / local conferences / enactment of regulations / domestic local best practices
Workshop of Local Officials in charge of International Exchange
To introduce the international works and projects conducted by the association and provide a platform where GAOK and local governments, and among municipalities can share information
Content
Period : March / Annually
Participants : Local public officials in charge of International affairs
Main content : Introduction of the Association's work, lectures on glocalization ect
Academy for International Affairs
To make a foundation in the internationalization of local areas through nurturing talented people in international field
Content
Period : twice a year
Participants : local public officials in the working level
Content  : International protocol and etiquette, analysis of best and failure practices of international exchanges, international events, successful ways of international exchanges among cities and vitalizing exchanges among sister cities
Glocalization Lecturing
To facilitate the internationalization of local areas through raising awareness of internationalization of local public officials To draw attention and encourage participation through the promotion of internationalization support projects by the Association
Content
Target : 12 local governments (flexible depending on the demand from local municipalities)
Venue : decided by each local municipality
Lecture theme : overall tasks for internationalization by local municipalities
※ Example themes : International etiquette, protocol , international relations, vitalizing local festivals
Forum for Vitalizing International Exchange
To find out practical alternatives in order to deal with the issues and problems that local governments are facing when they are promoting projects on international relations
Content
Subject : Timely appropriate theme related to international relations among local governments
Main content : presentation & debate by experts, Q&A session
Target : International relations officials of local municipalities, academia and civic experts in international relations, etc.