Introduction
Secretary General's Message
Secretary General's Message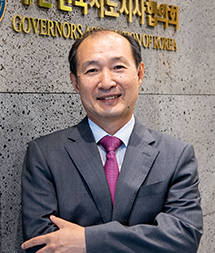 I am Myongu Jo, Secretary General of the Governors Association of Korea.
The local autonomy, which was revived in 1995, has been striving for the maturity of democracy, and the happiness of residents. It is time for the local autonomy, having reached its majority, to contribute to national level tasks of balancing regional development and discovering new growth engines.
Despite the seriousness of the tasks facing in our times, the local governments of our country are faced with a shabby reality of being a so-called half authority, due to inadequate authority in administrative and financial factors.
The Governors Association of Korea was established in 1999 for the purpose of securing national competitiveness through the development of local autonomy, and has been pursuing the actualization of decentralization since.
Based on such experiences and knowledges, the Governors Association of Korea will speak on behalf of the provinces, as we act as a bridge between the central government and local governments. Also, for the residents to realize the need for decentralization, we will make our best efforts to actively find out and inform the residents about should be done for&what can be done through decentralization.
We would like to ask for your keen interest and continuous support to the activities of the Government Association of Korea, as we continue to make our way to decentralization.

Sincerely.
Secretary General
Governors Association of Korea
Myongu Jo